Decor can be exciting but overwhelming if you don't have a clear vision. No need to panic; this is perfect because you can focus on the essentials and define what makes a home. We'll break down the must-haves to make your home feel comfortable and complete.
Candles
Candles can always make any space feel relaxing and festive. It's inexpensive to decorate your space and a step closer to making your home. Candles are practical to keep your area smelling nice and clean. You can figure out a signature scent you enjoy or experiment with changing candles often. Candles will be a great addition to completing your home.
Eucalyptus
Not a huge candle fan? Eucalyptus is your best bet with low maintenance, and it's budget-friendly. Eucalyptus does not require much watering or light, and the smell is allergy friendly. Eucalyptus will be a great addition to your home during those sad seasons. It's versatile to place in a pot or hang on your showerhead. You can find it in your local grocery store or plant shop. Give it a try!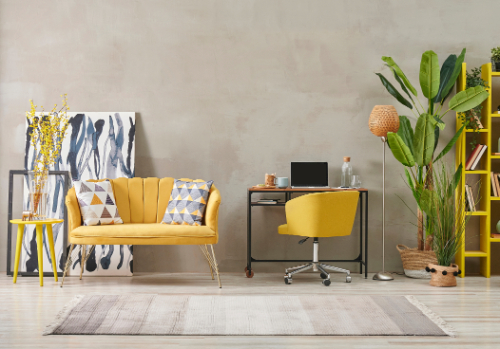 Air Purifier
Suffering from allergies can be awful, and indoor allergies are known to be the worse. You can begin feeling trapped in your own home. Air purifiers can combat those annoying allergies by providing fresher air. When shopping for an air purifier, make sure maintenance is simple and covers the basics of maintaining fresh air in your home. We recommend Blueair Air Purifier; this particular model is for larger rooms. Blueair purifies your space from dust, pet dander, smoke, mold, pollen, bacteria allergen, and odor removal. Blueair is silent and easy maintenance with a washable pre-filter. Purifiers are a great essential to have, no matter where you live. Make sure to invest in one. 
Art
While making your space feel like home, the main goal is to personalize your space. Art can be anything that catches your eye, helping you express your personality. You can decorate with an old poster you've had for years or a fancy painting you've seen at a gallery. Family photos or self-portraits can be art as well. You can create a sentimental area dedicated to all items on a stacked stand. Do what makes sense and is aesthetically pleasing to you. These are some ideas to make your space practical and comfortable. Remember to have fun and let your area speak to you.