The holidays are here, and your eyes are hurting from online shopping all night. While that's happening, you're stressing about how much you can spend and hoping everyone can receive a gift. Next thing you know, you find yourself overspending and feeling horrible about it. Let's review these top four strategies to help you save for the holidays.
Limit Your Gift Giving
Honesty never hurts; let your loved ones know your spending goal for the year. You can provide an approximate number and let them know what will be feasible for you this year. If they can't understand, then give them coal. The thought counts are accurate, and there are better ways to start the new year than breaking the bank on gifts. Try your best to buy only one thing per person. Most begin shopping for multiple items because the feeling "it's not enough" is consuming. Remember, taking time out of your day is good enough. Buy one item per person; it will keep things fair and budget-friendly.
DIY Your Gifts
Time is just as valuable as spending money. Your loved ones will be impressed with your personable handmade gifts. Browse Google or Pinterest to get inspired on what to make. You can make candles, notes with personal pictures attached, or even create bouquets. Doing this will be gracious and help you save.
Gift Sets are Your Friend
Shop for gift sets and set deals; this is an old trick in the book but underrated. If you insist on purchasing multiple items per person, gift sets are your money-saving solution. Discount stores sell pretty good gift sets, perfect for your budget-friendly holidays.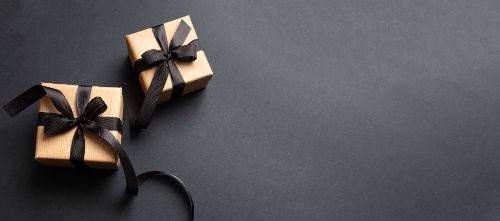 The Smaller Is Better
Minimalism is a great way to save. Purchase small yet thoughtful gifts for your loved ones. Magnets and souvenirs are great items for a person obsessed with traveling. Gift socks or leisure wear for a person needing new attire to relax. Figure out what your loved ones enjoy and purchase
accordingly. These tips will help you save and feel financially confident for the new year. Happy Holidays!