Whether you're stocking up on the essentials like cleaning supplies and toiletries or splurging on a cute pair of boots you just can't say no to, online purchases make it simple to browse hundreds of choices from the convenience of your home. But an added benefit of online shopping is ensuring that you're getting the best deal possible. Try these websites, apps, and extensions to save on all of your online purchases.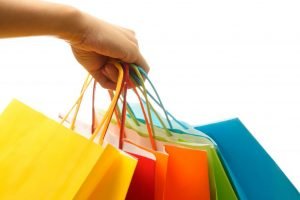 Ebates
Ebatesis one of those websites we talk about a lot here, but that's because it's literally a way to get paid for shopping at the places you were already planning to shop at. But one thing you might not know about Ebatesis that it also tracks major sales happening at the stores that partner with it. With brands that range from The Body Shop to Blue Apron to J.Crew Factory, Ebatesis essentially a one-stop shop for finding all of the best and most current sales.
Honey
One of the best parts of online shopping is that once you hit the checkout page, it's fairly simple to take a few minutes to browse for any available online coupons that could shave a few extra dollars off of your bill. But the Honeyextension, available for Chrome users, does the legwork for you. When the plugin is active, Honeywill automatically search its database for coupons that have worked on that particular site in the past and will do its best to auto apply coupons until it finds one that works. While it's not successful at finding additional savings 100% of the time, it's definitely one of the best ways to save money with no extra effort on your part.

CamelCamelCamel
Have you ever bought something on Amazon one week and come back the next to see that the price has jumped up by $12? Unfortunately, Amazon prices tend to fluctuate, so a great bargain you found a few weeks back might not be available the next time you need it. But CamelCamelCamelhelps shoppers out by tracking the price of certain items you're interested in purchasing. Once the price drops back down to a certain level, it will send you an alert so you can make the purchase at a great price.
CardBear
Have you ever gotten a gift card for a shop or service that isn't quite your cup of tea? It happens to the best of us. Luckily, CardBearoffers these unfortunate gift card holders a solution: Sell it at a slightly discounted rate for cold hard cash. But this website isn't just helpful for people trying to unload unused gift cards. It's also a great way to get credit at your favorite stores for a lesser rate than what you'd normally pay. For example, if you love eating at Olive Garden, you can hop onto CardBearand purchase someone else's $50 gift card at a 15% discount. Instant savings!
Krazy Coupon Lady
The Krazy Coupon Ladywebsite will help you save both on and offline using one of the most traditional money-saving tools there is: coupons. Browse by general deals or by the stores that you love for alerts about the best sales, discounts, shopping hacks, and money-saving coupons. But aside from just the tools you need to save on your next purchase, you can also read helpful articles and get resources that will teach you the ins and outs of getting the most bang for your buck.
There's no reason why you shouldn't be able to score a discount while shopping online. Be smart with your spending so you'll have a little extra change in your pocket in the long run.