Is there anything better than enjoying fresh fruit? It's hard to think of anything more refreshing. Double down on your fruit game this summer by indulging in some easy desserts.
Fruit Pizza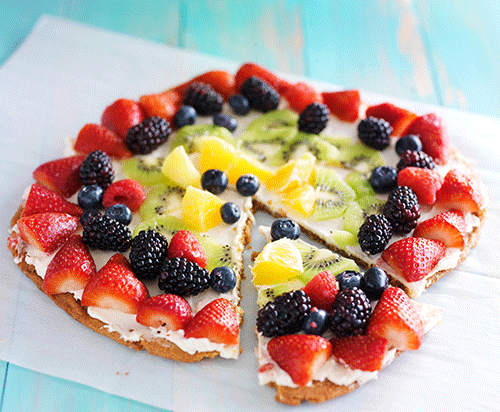 Truth be told, fruit pizza might be as delicious as regular pizza. Grab a package of pre-made sugar cookie dough at the grocery store. Roll it out into a pizza-like shape, keeping it about 1/4 inch in thickness. Bake as directed. Let it cool down and add cream cheese or vanilla frosting on top. Next, add your toppings. Sliced strawberries, kiwi, and berries are all great options. Cut it up and serve! You won't be disappointed.
Strawberry Sundae Bites
This simple recipe is a crowd favorite. You'll need to cut the top off and core some large strawberries. Once that is done, fill each one with Reddi whip. Next, top them with chocolate sauce and sprinkles. A sundae wouldn't be complete without a maraschino cherry on top, so add some of those as well. You're ready to enjoy! For complete instructions, click here.
Grilled Pineapple Sundaes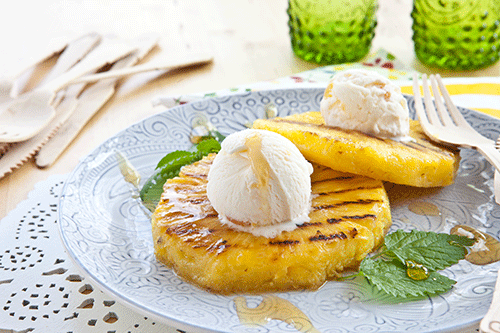 To make this incredible dessert, you'll need to heat your grill to high. Char pineapple slices on both sides. Remove them from the grill and top with vanilla ice cream. Drizzle some caramel sauce on top and add some shredded coconut. Talk about yum! You can find the recipe here.
Chocolate Covered Watermelon
Chocolate and watermelon might not seem like the most likely companions, but rest assured, this combination will exceed your expectations. To create this delicious dessert, you only need three ingredients. Cube your watermelon into bite sized chunks. Stick a toothpick in each piece and freeze them. Melt some (preferably high- quality) chocolate. Once your watermelon is frozen, dip it in your melted chocolate and sprinkle each piece with sea salt. The salty/sweet contrast will have you coming back for more! You can find this recipe here.
Caramel Apple S'mores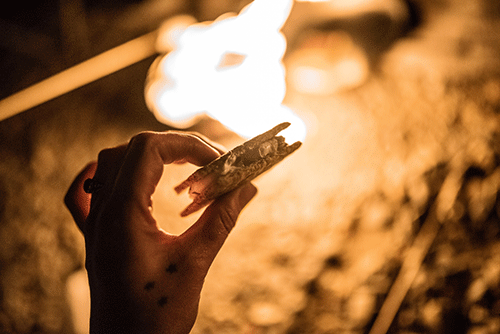 If you know how to build a s'more, you'll have no problem putting this recipe together. Start with some granny smith apples. Core and slice them into ¼ to ½ inch slices. Toast your marshmallows, and begin to assemble your s'more. Once you've put together the traditional ingredients, drizzle some caramel sauce on top of it all. Add another apple slice to the top of the stack and enjoy! Find this recipe in its entirety here.
Key Lime Pie Fudge
Oh, you thought fudge was just for winter? Think again! In just 35 minutes, you can have a delightful summer treat. It involves a graham cracker base, and a creamy, white chocolate top with both lime juice and zests of lime. The flavor combinations and different textures will have your taste buds crying tears of joy. You can find the recipe here.
Indulge in a few simple yet satisfying treats. Use these easy recipes to add a touch of sweetness to your summertime meals.