The end of school is here and done, and now it is time to enjoy the summer. So how can we start the summer off with a bang? It is a time to make it fun for everyone and enjoy the time with less to do on the schedule. Find some ideas with the best interest of the ones you spend your time with. There are plenty of ideas for the young and old to make the beginning of summer a special occasion.
Summer Fun Box
For those trying to find things to fill children's time, look into a summer fun box. This can contain just about anything you think will occupy their time. One place to look is your local dollar store. Get all the little crafts and toys you know they will be excited to receive. You don't want to break the bank, but you also have to find age-appropriate toys. Once you have filled your box, you may not want to give them free access. The box could be empty by the end of the first day. Either have special times they get to go in or put things in slowly. All children will love the excitement of seeing what the summer fun box has to offer.
Treat Nights
Treat nights are full of the young and the old. Plan fun nights that all can enjoy with cold treats that feel great on hot summer nights. It will give all something to look forward to all day or week. Ice cream treats or some extra cold drinks should be on the menu. There are many recipes for those that love dairy products and can be bought from any store. Eat This, Not That came up with a list of twenty dairy-free frozen desserts. This could be an excellent option for those looking to change their diet a little as well.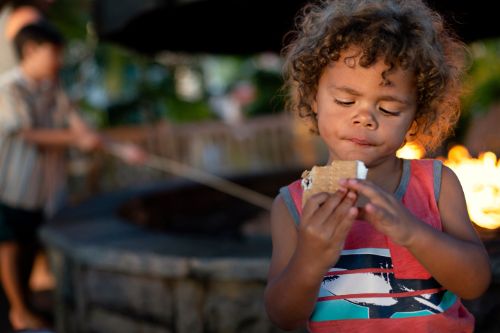 Water
Summer needs water, no matter what your age. This can mean a road trip to your closest lake or beach. Those that don't have an immediate option may need to bring the water fun to their backyard. You can turn your backyard into a water park with a hose and sprinkler. If you want to go a little larger than that, look into an Inflatable Water Slide. Wayfair is one sight that has some for a reduced price. And don't forget to grab some fun water guns and balloons next time you are at the store. You will be amazed at how water brings the old and young together.
Movies
What goes well with water and treats? Movie nights are the best on a summer night. All lounge on the couches and pillows in a cozy living room. Another option is using a projector and having a drive-in movie in the backyard. Using the back of a truck or a blowup pool makes a comfy place to pile pillows and blankets as well.
Enjoy the summer while it is here!