Breakfast is the most important part of the day, but we can often get in a rut when it comes to starting the day off right. Revive your early morning taste buds with these recipes whether you need something quick before work or fun ideas for Sunday brunch with friends. These yummy ideas will get your creative cooking juices flowing faster than you can say orange juice mimosa.
No Bake Breakfast Cookies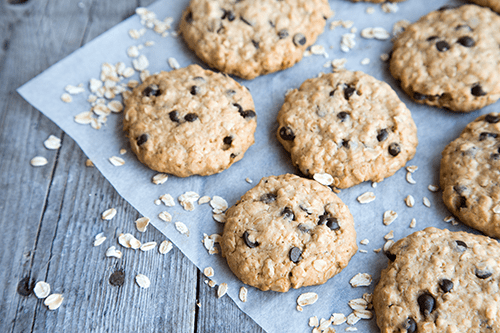 Did you just say cookies for breakfast? Look no further than this recipe that is no bake, protein rich, and can be made in 5 minutes. These could be your new go-to for mornings when you are running behind and need to grab something on the go. These yummy little cookies pack a punch with protein from peanut butter, honey, chia seeds and oats. Make them your own by taking this recipe and adding whatever strikes your morning fancy.
Source: i heart naptime
Ham and Cheese Egg Cups
Another easy breakfast for quick morning or buffet brunches served up for guests are these little egg cups. Super easy to make, you use a muffin or cupcake tin, make little cups with ham and fill with cheese, eggs, and whatever else you want. Throw them in the oven and you have a mini culinary masterpiece on your hands. They look so much fancier than the effort you will put into them.
Source: Delish
Berry Protein Pancake Bites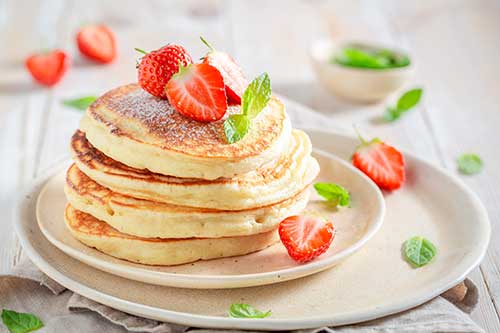 Don't put away your muffin tin just yet. These are perfect for brunch with the kids or family members. Who doesn't love pancakes and berries? These make them even easier by whipping them up, throwing them in a pan, and let the oven take care of the rest. This recipe also uses buttermilk protein pancake mix, so you can justify the splurge knowing you are getting a boost of protein from these. Totally easy to make and even easier to eat, top your finished creations with syrup, whipped cream, or just east them all on their own.
Source: Butter with a Side of Bread
French Toast Bake
This one just sounds amazing in the title. This is a French toast casserole that you throw everything into a pan and set it and forget it. Except you won't forget it, because you'll be drooling over the oven waiting for it to finish. Sourdough bread covered in egg mixture and topped with cinnamon sugar makes this ooey gooey breakfast one you will crave over and over again.
Source: Lil Luna
Frozen Yogurt Bark
This recipe is super simple and yummy at the same time. If you love all things yogurt, try this spin on your breakfast dairy. Combine your favorite yogurt with berries, granola or whatever else you want, pour into a pan and place in the freezer. After a couple hours, break it up into pieces and you have a beautiful bark to enjoy on the go or to showcase the next time you have house guests over.
Source: Easy Family Recipe Ideas
With ideas like these you'll never hit a breakfast rut. Try a few of these on your family and they'll always be up and ready for breakfast in the morning.