Fall just cannot exist without a good candy apple. This quintessential fall snack brings out the kid in all of us and puts a smile on our faces. Take your candy apple game to new heights with a couple new recipes and ideas. You'll be wanting to try at least one, or all of these ideas at your next party or Halloween movie night with the family.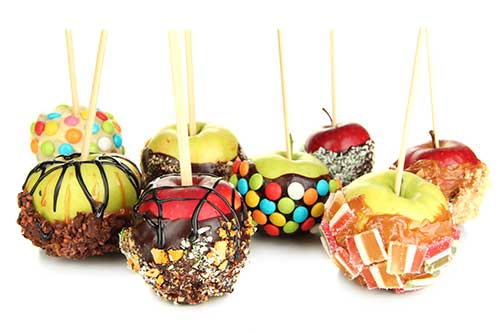 Apple Pie Caramel Apples
Let's start out with the most fall sounding candy apple ever. These granny smith apples with a crisp tart flavor are dipped in caramel, then dipped in white chocolate and sprinkled with cinnamon sugar. To top these already amazing flavors, the apples are then rolled in crumbled pie crusts pieces. These would be just as hard to resist as a warm slice of apple pie.
Source: Lil Luna
Chocolate Chip Cookie Dough Caramel Apples
This recipe is not for someone looking to stick to a diet. Wrapping a caramel dipped apple with cookie dough just sounds unearthly. The soft cookie dough paired with chewy caramel and the snap of the apple is a winning combination for your taste buds. Just be sure to heat treat your flour prior to using. Consuming raw flour can be just as bad as raw eggs. While this recipe for cookie dough has no eggs, flour is something people usually forget about. There are lots of resources for how to heat treat flour, it's very easy and makes it safe for cookie dough eating.
Source: Sprinkle Bakes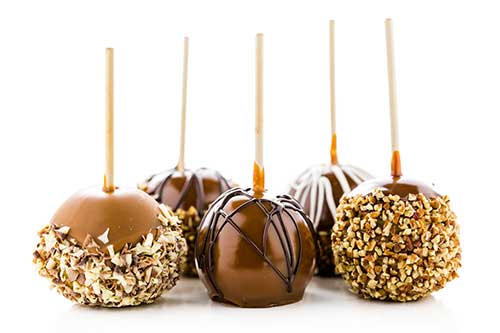 Cotton Candy Candy Apples
Create a twist on a classic fall treat by making it pink! This recipe not only makes a beautiful whimsical apple, but it tastes like cotton candy too! You'll be transported to the fairgrounds with these candy apples right in your own home.
Source: Rose Bakes
S'more Caramel Apples
Who's ready for s'more? These are for the ultimate sweet tooth. Caramel apples with mini marshmallows that are toasted with a chef's torch for a perfect coating. To finish these off, they are drizzled with chocolate syrup all over. Be sure to have plenty of napkins ready to go, because this will be one sticky, yummy messy treat that everyone will love.
Source: Premeditated Leftovers
Peanut Butter Caramel Apples
For the most decadent combination, just add all things peanut butter. This recipe has it all – crushed peanuts, peanut butter cups, and melted peanut butter chips, all adorning the apple that is already dipped in caramel and chocolate. These are the best for the sweet and salty lovers out there.
Source: The Spruce Eats
Gather a few friends and try out some of these recipes. They will keep coming back for more and more. Updating the classic candy apple has never been so fun. Get creative and think of a few of your own Frankenstein apples that will get you in the mood for fall season.