Nothing says fall like a nice hearty bowl of chili. This versatile dish is a staple during the colder months. It's simple yet satisfying and cooking up a huge pot of it will keep both your house warm and your stomach happy. Try these variations to find a recipe you like best.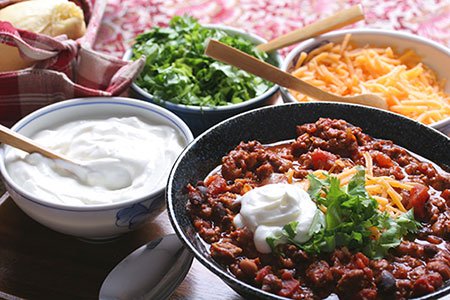 Classic Chili
One of the best parts about making this chili recipe from thewholesomedelish.com is that it only requires you to chop 1 onion. That is the hardest part of the meal preparation as almost everything else comes from a can! You then brown the hamburger meat, add in seasonings followed by the canned items. Lastly, top it with sour cream, cheese, avocado, or anything else you can think of. Chili is generally an extremely easy dish to make, and this particular recipe is no exception. It's a filling meal that is also highly cost effective. If you're interested in making this recipe, you can find it here.
Vegetarian Chili
This delicious recipe is chock full of vegetables that will be sure to excite your taste buds. It has a slight spicy kick to it that makes it absolutely delicious. There are a rainbow of vegetables included such as corn, celery, bell peppers, tomatoes, and jalapenos. Additionally, this recipe calls for a large amount of seasonings and ingredients; however, you can easily purchase these items canned to help speed along the process of creating this dish. You have the option of preparing this meal on your stove in about an hour or you can make it in your crockpot and leave it to cook while you go about your day. This recipe calls for bay leaves, oregano and cumin which are sure to leave your home smelling wonderful as the chili simmers. You can find this recipe here.
White Chicken Chili
This recipe by thechunkychef.com is a great option for a lighter, slightly healthier chili. You can make this dish in 6-8 hours by throwing the ingredients in the crockpot. It calls for low fat cream cheese and a little bit of half and half to help make it nice and creamy. The chilies add a delicious kick to it and the corn provides a slight hint of sweetness to balance it out. With seasonings like oregano, cayenne pepper, cumin and chili powder, it's sure to pack a punch in terms of flavor. Try adding tortilla strips, cheese, avocado or even a couple jalapeno slices on top to complete the dish. It's sure to be a crowd favorite. You can find the recipe here.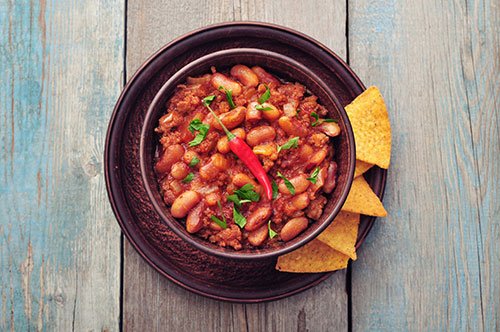 If you're stumped on what to make for dinner or trying to save money on your groceries, chili is a great solution. Your family will enjoy the hearty comfort food while you enjoy the fact that having leftovers means you can take a small break from cooking. Keep in mind you can freeze any excess chili and thaw it out as needed. Lastly, don't forget the cornbread. Bon Apetit!