Chocolate chip cookies are a classic, and homemade are the best. While there is much debate on the "best" cookie, the bigger question is why settle on only one recipe? The list below is a thoughtfully curated collection of the chocolate chip cookie recipes you must try and are guaranteed to enjoy.
This recipe is so iconic it was in a Friends episode. It's well known for a reason – it's simple and delivers on all the textures of crunchy and especially chewy. Out of all the recipes in this list, this one is the kid friendly because it doesn't involve complicated steps, doesn't require a stand mixer, and more importantly, doesn't need to be refrigerated for more than an hour. Plus, it's also a favorite of Joanna Gaines and inspired her own Magnolia Table Chocolate Chip Cookie recipe. They're similar and I've found the most success with the original recipe minus one stick of butter. Trust me, it helps take away a little of the guilt while still tasting incredible.
If you're looking for a healthy way to release some stress, this is the recipe you should follow. You're required to bang a pan full of cookies against the oven rack at least a few times. While this may sound weird at first, it's actually genius. And, it also delivers on visual appeal. This chocolate chip cookie recipe builds beautiful ripples and crinkles on an extra-large crispy cookie. The cookie leans toward the sweet side, but the process of banging the pan and creating satisfying ripples is something you should try at least once. Another bonus is the recipe developer has a great FAQ section on the webpage to help you successfully create this cookie.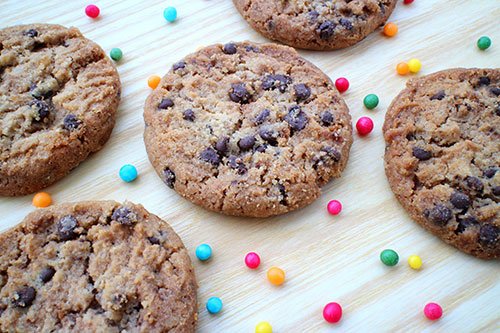 I first came across this recipe on Two Red Bowls. With a catchy title like that, I had to give it a try. The original New York Times article on the cookie can be found here, but I found the blogs that are linked in the article to be helpful for executing an excellent cookie. The twist in this recipe is it uses cake and bread flour instead of the typical all purpose. This leads to a light, chewy, and crunchy cookie. Flaky sea salt is also a must for this cookie and the recipe below. If you've never had flaky sea salt on your cookie, you are missing out. Trust me; it's worth the extra cost for the "special salt."
One of the frustrations of baking involves the necessary but finicky butter. Some recipes call for it softened, melted, or chilled. But, who really "plans" to bake cookies? Baking cookies are the most fun when it's on a whim, and this recipe doesn't allow butter to get in the way. How? We brown the butter and it's so worth it. I recommend watching the Bon Appetit video first because it's filled with helpful tips. Other than that, this recipe needs no more words. It's perfect and hands down one of my favorite chocolate chip recipes.
If you're looking for a gluten-free, dairy-free, refined sugar-free, and even nut-free version of a chocolate chip cookie, this recipe is solid. I'm not saying this is similar to any of the other cookies we've discussed, but it is a great recipe for those with dietary restrictions. It's baked in a cast iron skillet which helps add nice texture and presentation. Be careful though, it can be very easy to eat the entire cookie especially when it's topped with a scoop of vanilla ice cream.