An increasing number of the population suffers from lactose intolerance. Taking things like milk and cheese out of your favorite dishes might have you worrying they wont taste as great. The following recipes will help change your mind.
Creamy Tuscan Chicken
This is a dish that can be served by itself or over spaghetti noodles. It uses sun dried tomatoes and herbs, garlic powder and Italian seasonings to create incredible flavor. The recipe requires you to cook the chicken and remove it from the pan. Then, combine the remaining ingredients in a pan to make the sauce. It's made with coconut milk which means you don't have to skimp on creaminess. Let it thicken and reintroduce the chicken back into the pan to heat through. Add spinach and enjoy! You'll find the recipe here.
Hummus Quesadillas
It turns out you don't need cheese in a quesadilla in order for it to be delicious. Shocking, right? This particular recipe calls for whole grain tortillas, hummus and whatever fillings strike your fancy. She recommends folding the tortillas in half instead of sticking ingredients between two full tortillas. Because there isn't cheese to hold everything together, the insides have a tendency to fall out. After you've selected your fillings, serve your quesadilla with an unexpected dip like pesto or hot sauce. You can find this recipe here.
Southwestern Goulash
This dish is equal parts delicious and simple to make. Goulash is beyond easy to throw together if you're short on time. It requires only 11 ingredients and many of them are canned/frozen. Flavorful items like green chiles and cumin help give this dish some spice. Cook the macaroni and meat/onion mixture separately. After that, you just combine the remaining ingredients with the meat mixture and boil. Finally, stir in the macaroni and top with cilantro! Check out the recipe here.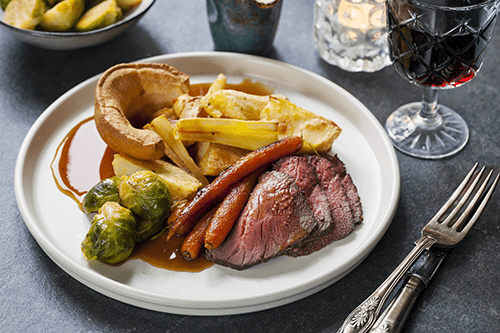 Shrimp Puttanesca
The flavors in this meal will have you forgetting about dairy completely. With tasty combinations of onion, anchovy, and garlic this dish packs a punch. Once your shrimp are cooked, all you need to do is combine the seasonings with the vegetables and saute them. Keep cooking them until your tomatoes are soft. Simmer until the mixture thickens and serve. This is yet another dish you can eat alone or serve over spaghetti noodles if you desire. Give it a try by following the recipe found here.
Spanish Stuffed Meatballs with Romesco Sauce
These meatballs have a delightful, spicy kick to them. They're made with pork and filled with olives. Additionally, the romesco sauce is easy to make. It only requires eight ingredients that you combine in your food processor. When you're done, simply dip the meatballs in the sauce to enjoy! Check out the recipe by clicking here.
Dairy free cooking can still be exciting and delicious. Focus on all of the amazing things you can still eat and be creative with your meals. Your taste buds and tummy will appreciate it.