With the cooler months rolling in it's time to break out your crock pot and whip up some delicious hearty meals. The winter months are the perfect time to try out some new recipes and discover some of your new favorites. Below is a list of awesome delicious crockpot recipes that will get your mouth watering and your taste buds saying. So plug-in and get ready to cook!
Crockpot BBQ Bourbon Meatballs
These are insanely easy to make, only take about five minutes of prep time, and just sound delicious. Your taste buds will be experiencing sweet, savory, and spicy all in one. These are great for a party or when you need to make a large quantity of something. Just turn your crockpot on and get cooking.
Source: The Chunky Chef
Crockpot Chicken Tortilla Soup
This recipe is awesome for dinner parties, dinners with family, or to even make in bulk and take to work for lunch. It's a creamy, delicious, and savory crockpot recipe that is a crowd pleaser for a reason. You can even make it easier by grabbing a rotisserie chicken already cooked from the store and you're good to go. Follow the recipe to a T or customize your own ingredients for a new twist on a classic favorite.
Source: Mighty Mrs.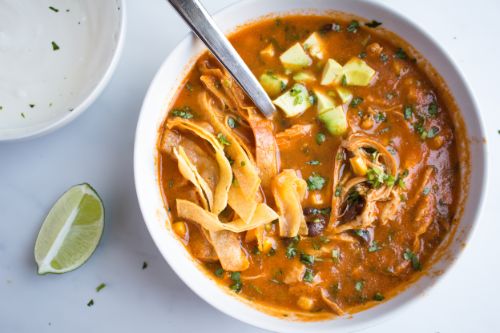 Crockpot Hot Chocolate
That's right, you can even make beverages in your crockpot. The cooler winter months are the perfect time to break out your crockpot for this all-time time favorite holiday drink. The best part is you can keep your hot chocolate nice and warm and at the perfect temperature until it's ready to be served. You could serve this at a holiday party with some peppermint sticks, melting chocolate and whipped cream for adding extra toppings and deliciousness. This recipe is completely homemade so you can skip the powdered stuff and snack on this amazing beverage instead.
Source: Hip2Save
Slow Cooker Irish Beef Stew
This hearty meal will have everyone's taste buds singing. Who doesn't love a good stew on a cold winter night? This recipe even includes world-class Guinness that gets added into the mix, so you are getting amazing aromas and even better tastes. Melts in your mouth beef mixed with carrots and potatoes, you can't get a better combination.
Source: My Heavenly Recipes
Chicken and Dumplings
This classic country favorite just got easier with the help of your crockpot. Delicious chicken mixes in with yummy biscuits to make spoonfuls of amazing. This particular recipe even utilizes the secret power of one out-of-this-world ingredient – bacon! Just when you thought you couldn't love this creation anymore add bacon and go crazy!
Source: The Frugal Gals
Dust off your crockpot and get ready to add a few new favorite recipes into your meal rotations. These recipes will have everyone's taste buds singing and you will be the ultimate star chef of your family or gathering. Happy cooking!