There are few things that can warm you up on a cold winter day like a hearty bowl of soup. From a classic clam and chowder to a fantastic Italian sausage soup, there's so much variety out there. We've picked a few fun recipes to serve as inspiration for the next time you're craving soup.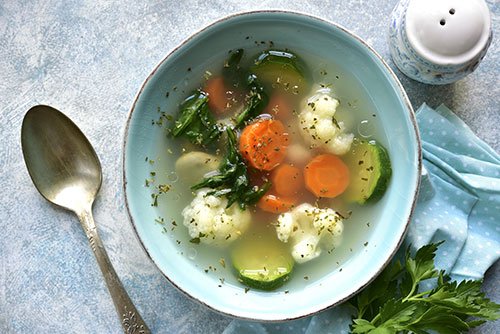 Hearty Vegetable Soup
Might as well start with a nutrient-packed soup, filled with carrots, celery, cauliflower, zucchini, tomatoes and kidney beans! This recipe courtesy of Denise from Sweet Peas and Saffron is broken down into six simple steps, and is also open for substitutions, which means it's a nice way to finish up any leftover veggies in your fridge. Within 45 minutes, you'll have chopped up your vegetables, simmered your soup, and have it ready to eat.
Broccoli and Cheese
This gluten-free take on broccoli and cheese soup calls for potatoes instead of flour to thicken the soup. It's also broken down into six easy steps, and does require a blender to puree everything together with milk for a creamy soup at the end. Find the recipe from Sweet Peas and Saffron here.
Italian Sausage Soup
This Italian Sausage Soup features farro, an ancient grain that has loads of nutritional benefits attached to it. Farro has more plant-based protein than rice; its nutritional value can be compared to that of quinoa, and boasts a more nutty flavor, according to Amanda Garrity's article on Good Housekeeping. Just imagine the flavors of combining farro and italian sausage, and Denise's recipe here will teach you how to perfect your Italian Sausage with Farro soup. It does take a bit longer to cook than the previous recipes, especially since you'll be cooking with sausage, but the wonderful mixture of flavors will sure be worth it!
Green Pesto Minestrone
You'll be sure to get a generous dose of your healthy greens with this minestrone recipe from BBC Good Food's Esther Clark. Ingredients include one onion, two celery sticks, frozen peas, frozen spinach, two small lemons for the zest and juice, as well as oil, vegetable stock, and of course, pesto. You have the option of adding parmesan on top and serving the minestrone with a side of garlic flatbread, as suggested in the recipe. This recipe should yield your healthy green minestrone in under an hour, so talk about easy.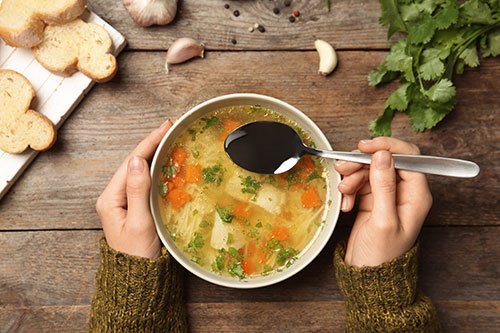 Gazpacho
Gazpacho is not only fun to say, but also quite easy to make. With Spanish roots and tomatoes as the base, it generally is served cold, so if you're looking for a warm-me-up, this recipe is not for you. The recipe from Rosie Birkett on BBC Good Food is broken down into three components — the pickled coriander seeds, the actual gazpacho, and the runner bean tempura. You'll also need a food processor and patience as you will need to blitz the tomatoes, cucumbers, capers, garlic, chili, and salt.
Winter Vegetable and Lentil Soup
Now we're back to hot, bone-warming soups, such as this winter vegetable and lentil soup recipe from Sara Buenfeld, also at BBC Good Food. You'll want to get some red lentils, carrots, celery, leeks, tomato purée, thyme leaves, garlic cloves, vegetable bouillon powder and ground coriander for this hearty soup. You also have the option to make this into a thicker soup by using a food processor, and the entire soup should be done within 45 minutes.
Roasted Butternut Squash Soup
It's not too late to bring out the squash and make some delicious soup, and Delish's Lindsay Funston has the perfect recipe for some roasted butternut squash soup. Butternut squash itself is packed full of vitamin A, C, E, as well as magnesium, potassium, manganese, fiber and protein, according to Jillian Kubala's article on Healthline. Add in that the recipe calls for plenty of vegetables such as potatoes, onions, celery and carrots, you'll for sure get a fantastic serving of nutrients along with all that heat.
Classic Chicken Noodle Soup
What would a list of soups be doing without the most classic chicken noodle soup? Lauren Miyashiro from Delish brings us an even healthier version of the classic with kale and low-sodium broth in this recipe. You also have the option to use boneless, skinless, chicken breasts as well as gluten-free noodles, and the best part is you'll have this fantastic soup ready in just over an hour.

These nine soups are most definitely not the only recipes out there, so embark on some more adventures in your kitchen with even more recipes, such as the Food Network's list of 41 Healthy and Hearty Soups. Country Living's Jessica Mejia also has her list of 46 Hearty Soup Recipes. With both of these lists combined along, you'll have 87 new recipes ready to be tasted in your own kitchen.