Not everyone likes to eat their calories. Some love to drink them. So at the next holiday party, instead of signing up for the green bean casserole, write down your favorite holiday drink. There are so many fun recipes you can experiment with. Drinking something just as delicious as the main dish is always a goal we should strive for. If you have no idea where to start, look into some of the favorites below.
Wassail
Whether you like to call it wassail or mulled cider, it is always delicious. There are kits to make it a cup at a time, but this Instant pot or Crock Pot recipe is what you will need for a party. There is no way that you will want to risk not having enough for everyone. The ingredients list is not too long, apple and orange juice, brown sugar, oranges, cloves, allspice, cinnamon, and nutmeg. Following the easy step-by-step instructions, you will have the perfect drink for a cold winter night in about an hour.
Homemade Irish Cream
Bring this as a drink or a great addition to an ice cream dessert. Either way, all your family and friends will be impressed with this addition to the table. It can also make a cute gift to hand out to everyone that loves Irish whiskey. Add a cute note letting them know all the great ways they can use it. Drinking it alone or added into their coffee are always great options, along with adding it to your favorite ice cream. Cute containers for this gift could be a simple mason jar with a bow. Follow this great Homemade Irish Cream recipe and make this everyone's favorite holiday drink.
Homemade Hot Chocolate
You will never buy the powder hot chocolate every again after trying this Homemade Hot Chocolate recipe. This is also a recipe that all ages can enjoy. Those in the older crowd can add a little something to their mugs if they so choose. Five simple ingredients and around six minutes are all you need to satisfy this favorite beverage. Add milk, cocoa, sugar, chocolate chips, and vanilla to your next grocery list, and you are ready for a winter of delicious drinks that will keep you warm and comfortable.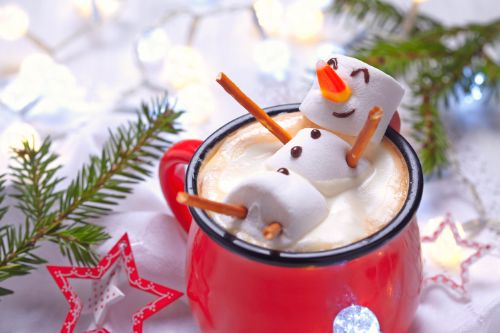 Poinsettia Drink
Poinsettia can be the centerpiece and the center of attention as the best drink around. If you are looking at a fun twist to a fancy drink, the Poinsettia (Cranberry Champagne Cocktail) Drink should be the recipe you are reaching for. All you need is Cointreau, cranberry juice, and champagne. If you want to spice it up, get some fresh cranberries to add to the glasses. It will be a festive drink made for any holiday party this holiday season. Just have your guests avoid any white carpet with this in their hand.
Drinks can be the new staple to any meal. So be known for bringing the best drinks to the party, not the best casserole.