Summer is fast approaching! Don't let the opportunity pass you by to make precious memories with your family. Here are some simple ideas that will help you spend quality time with the ones you love.
Giant Slip and Slide
Creating a giant slip and slide for your yard is extremely affordable. This can be accomplished with a roll of plastic sheeting, some garden stakes, a hose and some dish soap (to make it extra slippery). Heavy duty 10×25 plastic sheeting can be found on amazon for roughly $30 and a package of garden stakes costs around $15. You can purchase some inter tubes to ride all the way to the bottom and even send multiple people at the same time for a race. The possibilities for fun are endless!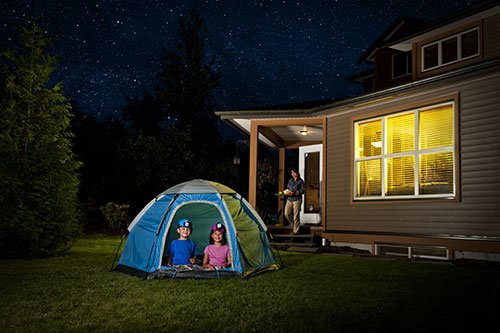 Backyard Campout
Camping in your backyard isn't just a fun activity, it's a great opportunity for your family to learn some essential outdoor skills. Learning to set up a tent, start and build a fire, and cook outdoors are important lessons to learn. You don't have to get too rustic if your family isn't interested. Watch a movie in your tent with an iPad or portable DVD player. Roast s'mores over your gas oven or fire pit. Spending a night with your family in a tent is a fun way to bond.
Outdoor Scavenger Hunt
Scavenger hunts are a great activity to do with your family because it's easy to tailor for kids of any age. You can use this game as a learning tool or simply as a way to pass the time. Stick to your home/yard or take it throughout your neighborhood. There are so many options. If you'd like some ideas to help you create the perfect scavenger hunt, check out handsonaswegrow.com.
Make Homemade Ice Cream
The best part about making your own ice cream is not that it tastes delicious (it does), it's that the process is very simple. Most homemade options only require a handful of ingredients. This recipe is perfect for younger kids. You could also try this recipe that involves the use of an ice cream maker. Either way, you get to enjoy a delicious, cool treat in the end!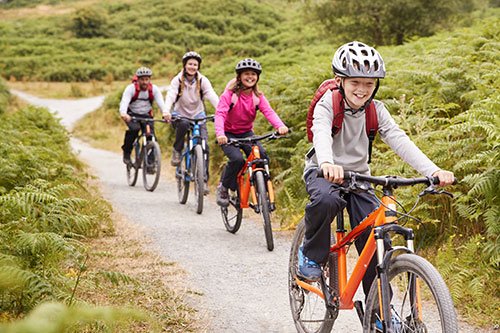 Family Bike Ride
Getting outside to exercise as a family is an incredible way to spend your time. You can alter the journey to meet the needs of your kids. Biking is a fun way to get some vitamin D, endorphins and also work your muscles. If you're thinking you might have to wait a couple more years until your kids are old enough to make it through a family ride, consider purchasing a bike trailer for your little ones. Amazon has a plethora of options ranging, on average, from $200-$400. You can start your search here.
You only have so many summers with your family before your children are all grown up. Take advantage of their lack of school and spend some quality time together.