Summertime is perfect to try out new activities and spend time with your kids. But as you can imagine, finding the right activities for your entire family can be a bit tricky. So, with that in mind, here are some great ideas on what activities you should check out!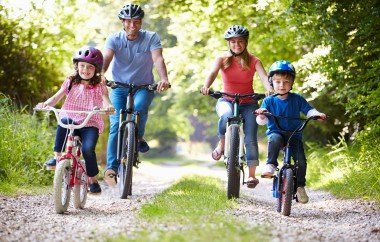 Biking
This is a simple activity, but it might very well bring in the most fun. And that's because there are some cool moments to be had with the entire family here. Plus, exploring the region and being able to lose some weight and work out is very exciting.
Camping in the backyard
Camping is always fun, but if you don't want to go in the outdoor regions near your city, then it makes sense to camp and have fun in the backyard. It's not as impressive, but the kids will love it. If they get tired, they can just go back inside. Alternatively, you can build a playhouse outside, that will be just as nifty and interesting.
Rock Mosaics
Encouraging kids to pursue their creativity is a very good idea. And rock mosaics are actually a lot of fun. You can prepare some rocks and paint, then let your kids enjoy the experience and encourage their creativity. It can be very exciting if you do this right.
Make a Water Blob
Even if it's a simple activity, rest assured that it will bring in hours of fun. This type of thing is unique, it's different and it inspires you to think outside the box and try out new stuff. It's a challenge at times, but it will be a great thing that you can enjoy with your family. Sponge bombs are also a lot of fun, not to mention water gun battles can be great too.
Create a Kite and go Enjoy it Outside with Your Kids
Let's face it, kids love kites, and they will continue to enjoy them. Kites are always exciting, and you can be as creative as possible when you make them. It all comes down to bringing in a sense of creativity and excitement to the table.
Hide and Seek
If you go outdoors or if you have a large backyard, it makes sense to enjoy some hide and seek action. That's actually very fun and you can easily stay there for hours playing this game again and again.
Your kids enjoy summer activities, so try out as many of these as possible. It will be a very good idea to offer your kids the excitement and fun you felt as a kid on your own, so give these a try if possible. Of course, you can always come up with your own ideas and variations when it comes to this kind of stuff. The idea is to just enjoy what you are doing and check out whatever activities make you happy. Not all of them will imbue your mind and body with happiness, so try as many as you can to see which is best!