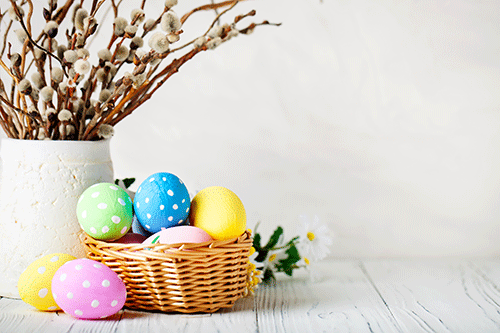 Spring is finally here and I'm sure that means you are scrambling to get Easter together before all the family show up. From the food to the egg hunt and everything in between we're here to help you get your Easter festivities hopping. With everything that a traditional Easter celebration requires, it's hard to know where to start. It's great to keep the tradition alive but don't be afraid to tweak things to fit your families dynamic. Here is your party planning guide to help make things happen.
Egg Hunt
The Easter egg hunt is hands down the most fun part about the holiday and most anticipated by the kids; but how do you involve everyone else? If you are wanting to take something off your plate, and have older kids, let them hide the eggs for your little ones. It gets them involved and makes it so they aren't bored and waiting for the littles to be finished. If all the kids are a bit older or you just want to have a little fun for everyone, try hiding money inside the eggs. It doesn't have to be too pricey, maybe just a couple dollars or even one "golden egg" that's hidden real well will make it so everyone gets excited about egg hunting.
Easter Meal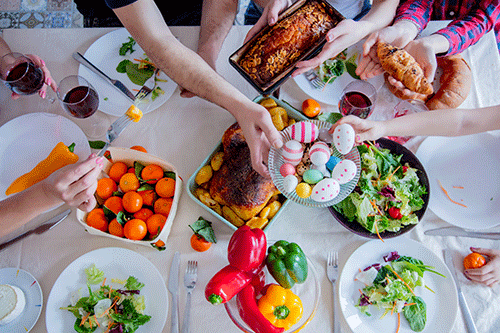 Feeling overwhelmed at the thought of having to cook for a large group of people? Try doing a pot luck. This takes some of the responsibility and stress off you of having to slave away in the kitchen all day while everyone else gets to enjoy each other's company. If you have a smaller amount of people you are celebrating with, you can also try doing some of the pre-bought meals that restaurants and grocery stores offer. Normally for the major holidays some grocery stores and restaurants will offer to put together and cook a meal for you and your family to enjoy at home and all you have to do is go pick it up. Sometimes they give it to you hot and ready to eat and other times you may just need to warm it up in the oven for a little while.
Decorating Eggs
Decorating eggs is so fun and an Easter staple. Of course you can keep things traditional by coloring the eggs with the food dye, but know you aren't just limited to that. If you want one less mess to clean up try decorating the eggs with stickers or coloring them with a crayon instead. This allows you to make them more personalized and unleash your creativity. Your Easter eggs will look so good your heart will break once you finally break one open to enjoy.
Easter is such a lovely time of year and often is a holiday where families gather together. It is such a fun time to be surrounded by the ones you love the most making new memories. With all of the planning and hard work that goes into making the holidays happen, don't forget to enjoy yourself