The air is getting colder, the days are getting shorter, and if you think that more couples than ever are coming out of the woodwork, it's not just your imagination: Welcome to Cuffing Season.
Unfamiliar with the term? Urban Dictionary describes Cuffing Season as the time during the winter and fall months when people who would otherwise prefer to be single and free find themselves longing for long-term companionship. Therefore, they find themselves a partner to be temporarily "cuffed" with.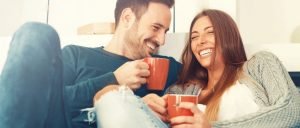 These relationships tend to start up around Halloween and last until around March if you're lucky. That means these temporary couples enjoy a partner for major holiday traditions, like having someone to kiss at midnight on New Year's Eve and a sure date on Valentine's Day. But if you find yourself still single, don't despair too much. Here's how to cope with being unhitched during this year's Cuffing Season.
Remember that most of these relationships won't last: While some happy, long term couples get together and stay together during this time of year, know that for many, Cuffing Season is just a way to hide from loneliness. If you're not one for casual relationships or you haven't found the right person, there's no reason for you to feel pressured to commit to someone for the sake of not being by yourself.
Spend some time getting to know yourself: As the year draws to a close and we head into a new one, a healthy dose of self reflection can be just what the doctor ordered. Rather than feeling sad or sorry that you don't have a partner, think about all of the great times you've had while single, and commit yourself to making even more happy memories. And who knows, perhaps by working on yourself and enjoying the activities that you like to do, you'll be lead to the perfect potential partner in the future.
Show a little appreciation for your friends and family: Having a romantic partner is not the only solution for facing shorter days and long winter nights. Take this time to recruit your friends for fun holiday traditions, like cookie swaps, caroling, and ski trips; or to simply remind them of how much they mean to you.
And if you must, get cuffed yourself: If you're ok with entering a potentially temporary relationship yourself, you're free to partake in Cuffing Season along with the masses. Just understand ahead of time what you and your partner are both looking for in the relationship to prevent yourself from potential heartbreak down the line.
Just remember, 'tis the season to be happy, merry, and bright, no matter your relationship status.