Sure, chocolate chip and sugar cookies are old standbys, they are great for last minute party planning and gifting. They are also perfect when you want that feeling of home in every single bite. But for the more adventurous eaters, the ones that defy the realm of traditional baking, these are some fun recipes to get your creative cookies flowing. Use some of these for inspiration and come up with your own variations!
Lucky Charm Cookies
Who's looking for a little bit of luck in their lives? The classic Lucky Charms cereal is the star in these yummy cookies. These cookies are filled with those addictingly delicious colorful tiny marshmallows that were everyone's favorite part of the cereal. Who can resist vibrant bites of cookie luck? You could even substitute your favorite cereal and create something new.
Source: Garnish and Glaze
Strawberry Champagne Cookies
Yes, you read that correctly. Who doesn't love the combination of champagne and strawberries? Especially in cookie form, these will take that love to the next level. Strawberry Champagne cookies would be the perfect addition to any celebration, girl's night, bachelorette weekend, or just a Saturday night at home! This recipe even shows you how to make your own champagne extract, so grab your favorite bottle of bubbly and get baking!
Source: The Soccer Mom Blog
Copycat Thin Mints
Everyone knows the Thin Mint is the best Girl Scout cookie. They are irresistible and this recipe lets you make them all year round when you can't get your fix from the local troop. This may or may not be cause for celebration. These would also be great around the holidays for parties. Add your own twist with some fun sprinkles or white chocolate drizzles on top and you have a unique creation.
Source: Like Mother, Like Daughter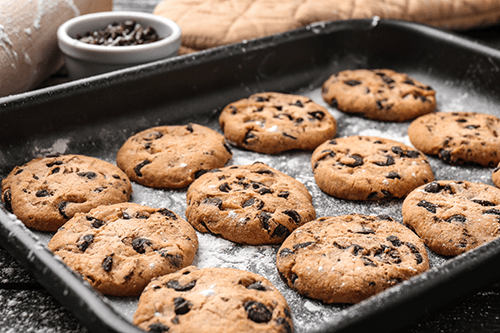 Birthday Cake Scones
Part biscuit, part cookie, the scone is a hybrid sweet delicacy. Take your average scone to the next level with some birthday cake flavor fun. Add any type of rainbow sprinkles to make these pop and stand out from the crowd. This recipe also has a delish glaze to drizzle on top. Perfect for afternoon tea, breakfast, or an afternoon snack.
Source: Well Floured
Snowball Cookies
This is a quick easy cookie recipe when you don't have eggs or milk on hand. You probably have all the ingredients in your pantry right now. Add your own twist by adding sprinkles or candies to give them an added flavor and crunch. Stay on theme with the holidays as these look like the perfect snowfall in powdered sugar form. That's a snowstorm we can all get behind.
Source: Sugar Spun Run
Take your cookie game to new heights with inspiration from these recipes. There are so many unique ways to whip up some comforting magic in your kitchen. Maybe you'll find your new signature cookie that everyone knows you by.