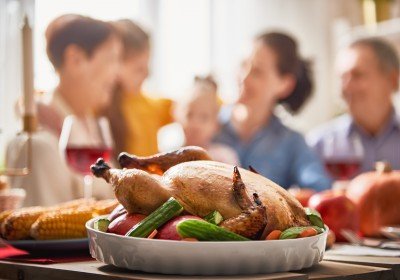 Life is always happier when shared with friends, right? So why not invite your best pals over for a nice dinner and whip together this delicious recipe. We're positive it will wow them all!
In this article, we are recommending a delicious recipe. Give it a try and let us know what you think!
Cherry, Jalapeno, and Apricot Barbecue Glazed Roasted Turkey
Surprise your guests with a sweet and glazed turkey with a spice and a little zing.
Ingredients:
Turkey, thawed and giblets removed- 18 to 22 pounds
Water- 8 quarts 3 cups (2 of these quarts should be ice cold)
Brown sugar- 1 cup
Peppercorns- 20 whole
Dried cherries- 2 5 ounces package
Agave nectar- 1 cup
Ginger ground- 1 tablespoon
Nutmeg- 1 tablespoon
Jalapenos- 3
Salt- 3 tablespoons and ½ teaspoon
Unsalted butter- ¾ cup
Dried Mediterranean Apricots- 7 ounces
Onion Powder- 1 tablespoon
Paprika- 1 tablespoon
White Vinegar- ¾ cup
Garlic powder- 1 teaspoon
Method:
Brine:
Add 6 quarts water, peppercorns, agave nectar, nutmeg, ½ cup brown sugar, 3 tablespoons salt, and ginger in a large pot. Bring it to a boil.
Remove from heat and add 2 quarts water (ice cold).
Place the turkey in the oven roasting bag and add it to a pot. Add brine to the bag and seal it. Place refrigerator overnight.
Prepare barbecue glaze
Preheat the oven to broil.
Place jalapeno on a baking sheet and broil it for 5 minutes. After that, change the sides of the jalapeno, and broil for 5 more minutes.
Remove it from oven and let it cool. Using a paper towel remove the skin and seeds.
In a medium saucepan, add apricots, cherries, and remaining water. Bring to a boil, then lower the heat and simmer for 1 minute.
Drain and reserve the cooking liquid, nearly 1 ½ cups. Keep the cherries and apricots.
In a blender, add cooking liquid, garlic powder, apricots, vinegar, cherries, paprika, salt, onion powder, and brown sugar. Make it a puree and pour it into the saucepan.
Add butter and stir until melted. Simmer for 20 minutes. Keep 2 cups of sauce for turkey and keep rest of the cups in a refrigerator for serving with the turkey.
Turkey:
Preheat the oven at 350 degrees for roasting turkey.
Remove the turkey from the brine and add it to the roasting pan.
Roast the turkey for 20 minutes per pound.
During the last 40 minutes of the roasting time, brush the barbecue glaze over the turkey.
Bake for 10 more minutes.
Add more barbecue glaze and bake it until it reaches the temperature of 165 degrees.
Give this delicious turkey a try and impress your guests. Be sure to make time for a nap afterwards!