When there's still a chill outside, that means it's casserole season, though in reality, I would argue casserole is so good and easy that every day can be a part of casserole season, regardless of the weather outside. It's time to gather your ingredients, grab your casserole dish, and get cooking!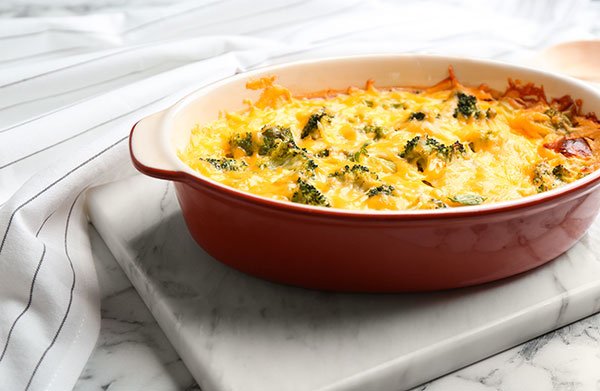 Beef Noodle Casserole
We're starting heavy with a casserole packed with lean ground beef that can be ready in 40 minutes. Sara's recipe on Dinner at the Zoo calls for egg noodles, ground beef, onions, and tomatoes as the main ingredients. You'll also need to get some olive oil, italian seasoning, as well as cheddar cheese and parsley for topping off this casserole dish. When you're getting tomatoes, though, make sure to grab both a can of tomato sauce and diced tomatoes.
Creamy Chicken Quinoa and Broccoli Casserole
Get a good dose of your greens with this chicken, quinoa and broccoli casserole from Lindsay's recipe on Pinch of Yum. Not only do you get the well-known nutrients of broccoli, you can also pack up on some protein and essential amino acids with the quinoa, according to this article by Kris Gunnars on Healthline. Prep and cook time together will take a little over an hour — one hour and fifteen minutes to be exact, but a hefty chunk of that time is spent waiting for the oven to work its magic as it does with all casserole dishes.
Cajun Shrimp Alfredo Casserole
We're taking your taste buds on a trip with this cajun-based casserole from Ali on Gimme some Oven. Inspired by a trip to Barcelona, this casserole dish can also be done in 40 minutes. It features, you guessed it, shrimp, but also includes plenty of vegetables such as bell peppers, red onions and okra. You'll also add some cooked rice in, and you bring it all together with alfredo sauce, which Ali also includes the recipe for here. Make sure to also grab some lemon slices, parsley, and parmesan to add more zest and zing at the end!
Spinach and Artichoke Ravioli Bake
We're back on the green theme with this spinach and artichoke ravioli bake from Farah's recipe on The Cooking Jar. Ready in 45 minutes, this recipe only calls for seven ingredients — chopped baby spinach, artichoke hearts, pesto, alfredo sauce, broth (vegetable or chicken works), frozen ravioli, and an Italian cheese blend. For those who want to try your hand at making your own alfredo sauce, Farah also includes her own recipe for homemade alfredo below the main recipe.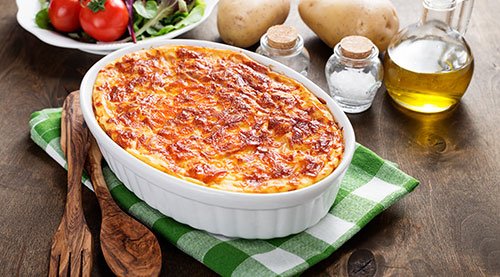 Chicken Casserole with Herby Dumplings
This casserole dish gives you a hearty tomato-based stew with some dough for dipping. It does take a bit more time with a 30 minute prep and 1 hour and 10 minute cook, but quite a bit of cook time will be spent on browning the chicken for the stew. You also learn how to make quick herb-filled dumplings with just butter, self-rising flour and your choice of herb mixture. Check out the full recipe by Sarah Cook on BBC Good Food.
Vegetarian Mexican Casserole
Meeta's vegetarian Mexican casserole will certainly be a delicious way to get your fill of protein in a tasty way. Her recipe on Piping Pot Curry calls for plenty of vegetables, so make sure to grab some onions (this recipe uses red onions), green and red peppers, tomatoes and frozen corn. For those who are looking for a bit more spice, don't forget to get some jalapeños as well. Have plenty of lime juice, garlic powder, cumin, oregano, paprika, cayenne and cilantro on hand to perfect the seasoning. You can also use your choice of white or brown rice, though this recipe recommends brown rice to accompany the black beans.

If you don't feel like you've gotten your fill of casserole recipes, worry not, there's plenty more out there. Delish collected over 45 casserole recipes here. Taste of Home has 50 more in this list, and The Spruce Eats is keeping time restraints in mind with their list of 10 quick and easy casseroles. With so many options, it's definitely time to pull out some new recipes on your casserole dish.