Winter is coming to an end and spring is officially on the horizon. Start packing away your cold weather clothes and get excited about the latest spring fashion trends. Here are a few you can look forward to.
Vacation Chic
Quite a few spring collections featured airy dresses, crochet tops and printed separates. These types of clothes are great for everyday wear, but are even more incredible when worn on vacation. This is clothing that is not only beautiful and fashion forward, it's comfortable as well. Wear it walking down the hallway at work or walking down the streets of Italy. It easily works for both!
Oversized Bags
If you're a big bag lover, get excited about this upcoming trend. Oversized bags are about to have their moment. For reference, think of a bag around the size of a duffel bag, possibly even bigger. This is one trend that's as functional as it is cute. An article written by Laura Lajiness Kaupke for refinery29.com further explains, "Bid adieu to your minis for now; ultra-big bags are in for spring. From festive raffia to polished-for-work leather, labels like Khaite, Tory Burch, Marni all make a case for supersizing your next handbag. These carry-alls can also double as a stylish travel bag that'll hold at least a few days' worth of essentials should your luggage go missing."
Cropped Cardigans
Say goodbye to the slouchy, grandpa sweater that's been all the rage the last couple years. Baggy and bulky are not even close to the type of cardigans you'll see this spring. A cropped, barely there, shrug-like sweater is what you can expect. This is a versatile piece of clothing. You can throw them on over a dress for a fancier look or you can wear it over a tank top with some cute bottoms. The styling possibilities are endless.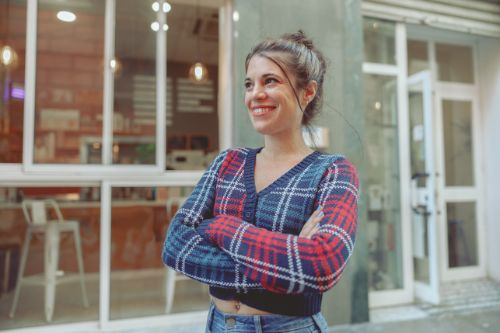 Mini Skirts
Don't throw out all of your long skirts just yet. There is still room for them in this spring's line up. However, the real star of the show is going to be miniskirts. Many designers have designed ultra- feminine skirts with coordinating tops and blazers. When it's all said and done, this combo looks extremely put together. This is another piece that has the potential to be extremely versatile. Experiment with different top and shoe combos to find an outfit that represents you.
Fringe
It seems that the last couple years in lockdown have inspired designers to create unique party- inspired looks. Everyone is ready to hit the town. A lot of bright colors combined with elements of movement were found in many fashion shows. The overwhelming effect of a garment covered in fridge is that it evokes feelings of joy and fun. It's sort of an unconventional trend but we're definitely here for it!
The winter fashion season is quickly coming to an end. As we move towards spring, start preparing your wardrobe by experimenting with some of these upcoming trends.