Soup is a great go-to dinner, but sometimes we want something thicker and richer to warm up those cold winter evenings. Stew used to be a dish best served on days off when there was more time to tend to the pot, but there are plenty of recipes that cut out the tedious stove hovering without skimping on any of the flavor.
Beef
Made with fork-tender meat and starchy potatoes in a hearty broth, there's not much you can get from a bowl that's quite as comforting as classic beef stew. Sara from Dinner at the Zoo has a recipe that will have you enjoying traditional homemade beefy goodness in about 30 minutes using a multi cooker to speed up the process. If you'd rather throw all your ingredients in a slow cooker in the morning and forget about it until dinnertime, AllRecipes has this version that cooks for 10 hours on low or 6 on high.
Chicken
If you're craving protein of the white meat variety, chicken stew may hit the spot. Taste of Home has this recipe by Valerie Jordan that combines all the delicious flavors of chicken soup with the stick-to-your-ribs consistency a stew provides. The best part: it only needs to cook for 25 minutes.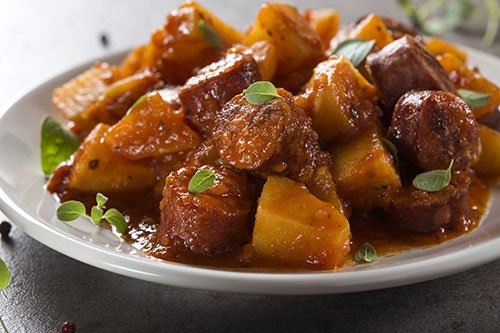 Pork
If you believe variety is the spice of life and spicy eats are the living end, this pork and green chili recipe might be for you. Grace Parisi at Food & Wine puts two different types of chilies along with chunks of pork stewed in a flavorful bath of chicken broth. You'll be enjoying this dish in under an hour.
Vegetable
Some people make a whole lifestyle of skipping the meat, but whether you're an omnivore or not, vegetable stew is so packed with flavor, it won't leave you feeling like a key component is missing from your bowl. Sonya Labbe's recipe for Moroccan vegetarian stew at Taste of Home mingles cinnamon and coriander with butternut squash and chickpeas to make a warm, inviting dish that only simmers for 30 minutes. Rachel Gaewski of the Tasty Team had her recipe for hearty vegetable stew featured in Hearty Stews that Will Fill You Up, and it's easy to see why. Mushrooms lend a meaty flavor to this stew, perfectly balanced out by soy sauce and red wine. This dish takes 45 minutes to fully develop.
Fish
If meat from the water gets your taste buds going, fish stew might be a great addition to your suppertime schedule. Elise Bauer at Simply Recipes has a versatile dish that gives the cook the option of choosing from any firm white fish as the main protein, including cod and halibut. For even more versatility she recommends adding "1/2 pound of shrimp, mussels, clams, and/or scallops." It only stews for 20 minutes in a tasty thick broth of flavors that includes white wine and Tabasco.
If you're in the mood for some comfort food, try these stews that will taste just like dad used to make, but won't take up your entire Sunday.