Summer is a great time for reading. Laying in the sun while reading a book, lounging with a mystery, by the pool, while your kids swim, staying up late—like the sun—and finishing that cliffhanger all sound dreamy. But how do you create that summer reading list? If you're like me, than finding the next book to read can be a challenge. I do not always trust people's recommendations. And I have found that back covers sometimes are more appealing than the story itself. However, there are quite a few websites that can generate books of your liking after putting in small amounts of information. They are quite similar websites and do pretty much the same thing, but here is a quick list to help.
Rather than books, this site recommends authors. You fill in three of your favorite authors and it recommends an author with similar material you might be interested in. That is pretty much all this site can do. You can say you like the suggestions or do not. And it ends there.
This is a site I have become fond of. You do not have to make an account to use Goodreads, but you can make a free account if you would like. Once you make it to the site you can search a title, of a book you enjoyed, and a list of other books Goodreads' users also enjoyed will pop up. If you choose to make an account, than you can rate all kinds of books you have a read and it will create a list of books it thinks you will also enjoy. Goodreads will divide this list into separate genres as well. The list is constantly updating as well. This site is also a social network type site. You can follow other friends and see their likes and dislikes as well.
Riffle is a social site that requires you to sign up. It is free. You input a little information about your readings tastes and Riffle will give you some suggestions. But on this site most of your finds will come based on the social networking part. The more you follow the more recommendations you'll receive.
Litsy is a website, but better used as an app. It focuses on social networking as well. You can follow users and see what they are reading, read their reviews, and like or dislike what they have shared.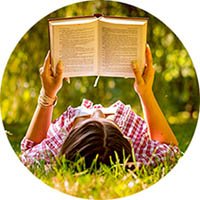 Allreaders site has an advanced search option that allows you to search for books with specific plots, settings, details of the protagonists, and even the era the book is based in. Whichbook is similar in that you search for books based on characteristics rather than authors and like titles.
TasteDive is a little different because this site makes recommendations for books, movies, music, and TV shows. You put in information about what you like and dislike and it will give you its recommendations.
You create an account on BookBub and fill in your information and it will recommend books. One great thing about this site is that it will offer discounts on books it thinks you will enjoy. You can also follow your favorite authors here, and they will give their own recommendations.
Taking recommendations from friends and family has always been a way to go about things, but everyone's taste in reading is slightly different. So if you're struggling to create your summer reading list, hopefully, one of these sites will be the perfect fit for you. Happy Reading!