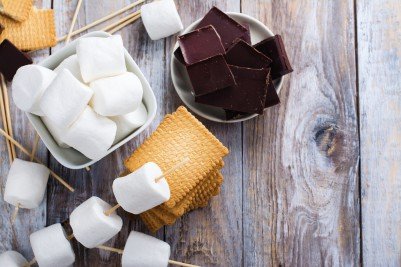 There are few things better than sitting around a summer campfire enjoying a delicious s'more. However, if you're craving a s'more outside of the summer months, do not fear! Not only is this treat highly versatile, it's incredibly easy to recreate. Ditch the notion that s'mores are a seasonal indulgence and check out these recipes that will help you enjoy them all year round.
S'mores Cupcakes
If your love for brownies rivals your love for s'mores, this recipe is for you. Try baking these cupcakes! They have three delicious sections to them just like a traditional s'more. With a graham cracker bottom, a fudge brownie middle and toasted marshmallows on top, you can't go wrong with this dessert. There are helpful tips to make the preparation and execution of this recipe easy and fun. If you're looking to bake something that is sure to be a crowd pleaser, check out this recipe here.
S'mores Bars
This variation of a s'more is also a variation of a blondie. It's incredibly simple and uses ingredients that are pre-made. For example, it calls for store bought chocolate bars and marshmallow fluff from a jar. The only thing you have to prepare is the graham cracker cookie dough. If you're short on time but want to prepare a dessert that everyone will love, keep this one in mind. The entire dish takes only 40 minutes to complete. You can find this recipe

8/04/28/smores-bars-recipe/">here.