If you're lucky enough to have been blessed with an amazing mom, you've probably already started to think about what to get her for Mother's Day. Sometimes the traditional gifts of flowers, chocolates, etc. feel too stale. Here are a few gift ideas that will help you think outside the box this year.
Custom Face Cookie Cutters
Did you know there was such a thing as a custom face cookie cutter? This is an extremely silly and fun gift that is sure to make her laugh. You could purchase this cutter and bake your mom a plate of cookies featuring her beautiful self. Or you could purchase two cutters: one of your face and one of your mom's face to gift her. Either direction you go, you stand a pretty good chance of getting cookies out of the deal. You can find an Etsy listing for this product here.
Kindle E-Reader
If your mom loves to read, but struggles a bit with reading the small print of books, a kindle is an excellent gift idea. With an e-reader, she can enjoy her favorite books with a lit background and large print. It's easy to use and can be enjoyed for years to come. You can browse various models by clicking here.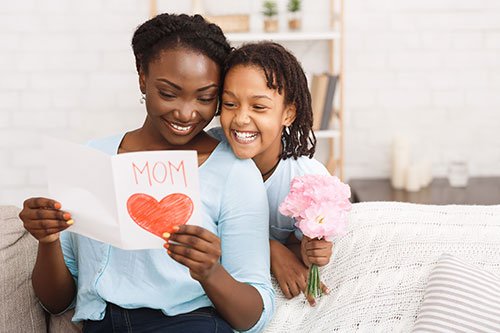 UGG Slippers
If your mom isn't constantly cold or worried about being cold, is she even a mom? Splurge on the woman who gave you life by purchasing her some of the fanciest slippers money can buy. Not only will she look stylish, but her feet will be as warm as her heart. There are a few options you can check out here.
Letters To Mom
For the sentimental mother, this gift is one that she will cherish. It's a collection of eight prompts that will enable you to write your mom thoughtful letters. You simply have to answer the questions and yield to the writing suggestions to craft a beautiful missive your mom can keep forever. This is a great option if you don't live in close proximity to her. It gives her a little piece of you to hold on to when she's missing you. You can order them here.
Roadside Emergency Kit
If your mom tends to be a little more on the practical side, find her the perfect roadside emergency kit. This gift comes in two parts: the actual kit and the peace of mind you get knowing your mom will be okay should she ever need to use this gift. Amazon has a plethora of options for you to choose from depending on your budget. Take a look here.
Show your mom how much you love her by thinking outside the box. Seriously consider her interests, hobbies and needs. Additionally, stay clear of anything she already has an abundance of! Use this list as a guide to help you find the perfect Mother's Day gift.