Establishing and maintaining holiday traditions can be a magical experience. Unsurprisingly, food seems to be at the center of most celebrations. Learning to prepare traditional food and treats is an easy way to teach your family about their heritage as well. Take a look at a some of these traditional holiday cookies from around the world.
Scotland
One of Scotland's biggest contributions to the dessert world is shortbread. It's a simple yet delicious cookie that can be extremely versatile. Better yet, it only requires six ingredients to make. If done right, you'll create an incredible butter flavored cookie that is sure to please even the toughest of critics. Check out the recipe here.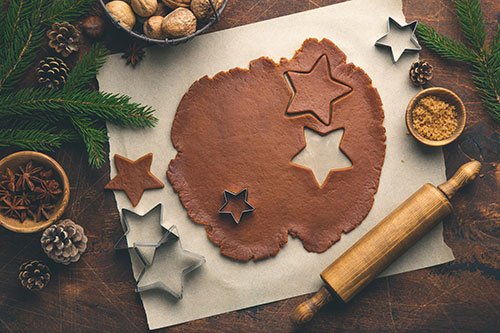 Greece
Cinnamon sugar twist cookies are Greece's contribution to this holiday cookie round up. This recipe combines some classic holiday flavors like cinnamon and orange. You have the option of keeping this recipe very traditional or adapting it to be more 'dessert friendly'. This includes changes such as taking out the sesame seed topping and adding extra cinnamon and sugar instead. This recipe and all the adaptations can be found here.
Mexico/ Russia
Mexican wedding cookies and Russian tea cakes are extremely similar. It's a very simple recipe that typically requires 6-7 ingredients that you probably already have in your pantry. Make sure you follow these recipes exactly. Read all the notes to avoid these delicious cookies coming out too dry. You can find the Mexican wedding cookie recipe here and the Russian tea cakes recipe here.
Germany
This German cookie recipe is called Lebkuchen. It's a sweet and spicy treat that you'll love to make for the holidays. The recipe requires you to make a special Lebkuchen spice mix. Feel free to double the mix so you have it on hand for future baking. Additionally, you can top these cookies with jam, powdered sugar or whatever else your heart desires. You can also enjoy them plain. The recipe can be found here.
France
Madeleine's are a versatile treat that are perfect for dipping in your coffee, tea, or hot chocolate. Eat them plain or sprinkle a bit of powdered sugar on top. They're delicious no matter what! Before you get started, you'll need a Madeleine pan. You can find one on Amazon here for roughly $13. The good thing about these cookies are that the ingredients are fairly common and you probably already have them in your pantry. The only one you might have to search for is a vanilla pod. This recipe requires you to scrape out a vanilla pod and save the pulp for later to mix in with the eggs and sugar. You can find this simple version of the recipe here.
Creating new holiday traditions is an exciting undertaking. As you explore your heritage, you can discover new recipes to incorporate into your baking. Enjoy celebrating this holiday season by whipping up some of these traditional cookies from around the world.