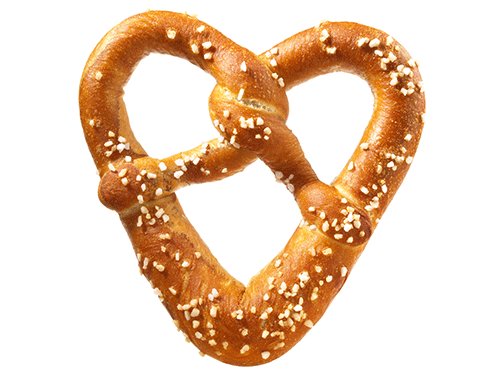 Pretzels are a snack that are always welcomed for any occasion. From movie nights to picnics to birthday parties, you can whip up some twisted treats. If you think there is only one way to make a pretzel, look to these recipes for inspiration. You'll find salty, sweet, and savory goodness with every recipe and every bite.
Auntie Anne's Copycat Recipe
Who better to draw inspiration from than the pretzel empire itself? Everyone loves an Auntie Anne's pretzel and this copycat recipe will be met with rave reviews from your own kitchen. Make the classic pretzel shapes or cut into bites and you'll be able to open up your very own mall kiosk at home.
Source: Yammie's Noshery
Salted Caramel Chocolate Pretzels
Both salty and sweet at the same time, this is an award-winning combination. Take your run of the mill pretzels, sandwich drizzly caramel in between, drip in chocolate and sprinkle some coarse salt from above and you have a snack no one will be able to resist. You could even decorate with seasonal sprinkles for the holidays or birthday occasions. The possibilities are endless with these flavor-packed snacks.
Source: It's Always Autumn
Garlic Ranch Pretzels
Taking it to a whole new level are these garlic ranch pretzels. This recipe only uses four ingredients to elevate this everyday snack. If you love ranch, and love garlic even more, these are perfect for your next movie night, game day or picnic accoutrement.
Source: Eating on a Dime
Cinnamon Sugar Soft Pretzels
We all love the Auntie Anne's pretzel, but our taste buds really soar when you start adding flavors to it. How about some homemade cinnamon sugar soft pretzels that rival any mall food court? These are chewy and soft and showered with cinny suggy yumminess. No one will be able to resist these twists.
Source: One Little Project
Bavarian Pretzel Rolls
You can eat these by themselves or whip them up as the perfect sandwich roll or burger bun. Elevate your next BBQ with these tasty rolls. The classic Bavarian pretzel roll has been a cherished recipe for years and years. Soft and chewy with the perfect salted crust, there's no denying your taste buds once you'd tried one of these.
Source: All That's Jas
Low-Carb, Gluten Free, Keto Soft Pretzels
That's a tall order to fill, but somehow this recipe does it. While it's a little more effort to get all the right ingredients, there's no denying the finished taste will make you a believer in baking alternatives. Try sneaking these into your kid's lunchbox and they'll never know the difference. All you'll be hearing is requests for more.
Source: The Wholesome Yum
When you go on a pretzel recipe journey, you'll learn there's more than one way to make this favorite treat.  Get inspired and get twisting!