If you have a fun get-together or party coming up, maybe you want to try a new signature drink or concoction to take your celebration to the next level. Experiment with color and the senses and creativity will explode. Throw out everything you know about drink making, because these are truly unique beverages you won't find at your average event.
Magic Butterfly Pea Lemonade
This drink is one-part science, one-part pure magic, and a whole lot of fun. Using a flower that comes from Southeast Asia called butterfly pea, it starts out a beautiful sapphire blue after brewing into a tea. When the acidity of the lemonade is added, it begins turning purple and pink. You can find these dried flower buds and brew your own tea or purchase powdered mixes that have the blue base ready to go. Whip up some pure magic at your next party.
Source: Love and Olive Oil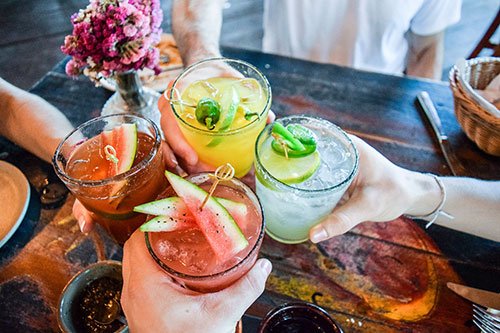 Cotton Candy Margarita
Who doesn't love cotton candy? This sweet treat mixed with your average marg is a taste of exploding flavors in your mouth. This recipe would be great for a unique Thirsty Thursday or for your next Circus-themed birthday party to give the parents a little fun while they watch the kids in the bounce house. Even at your next Taco Tuesday, this could be a fun dessert addition to your repertoire.
Source: Ramshackle Pantry
Jingle Juice
This is the perfect festive drink for the holidays, but you could call it something different to make it appropriate for all seasons. The recipe is so simple and it's easy to make in big batches for bigger parties. Whipped vodka, champagne and cherry 7-up make this fizzy concoction a crowd-pleaser for all occasions. You'll be handing out the recipe left and right, that is, if you want to share your secrets.
Source: Inspired By Charm
Pink Starburst Martinis
Everyone knows the pink Starburst is the best one of the bunch. Its juicy flavor is the perfect inspiration for this unique cocktail. Flavors of strawberry kiwi and strawberry seltzer added to vodka make this drink the perfect addition to girl's night, or a Wednesday night, because why not. Garnish with a cute spear of pink Starbursts to give it added personality and whimsy.
Source: Boston Chic Party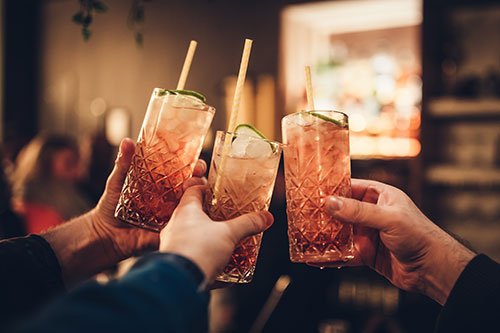 Root Beer Slushie
Root beer is one of those drinks that just resonates with childhood memories. Who doesn't love cooling off with a nice glass of root beer? Take that cool to the next level with this recipe for a slushie version. Wow your guests for a backyard BBQ with this unexpected drink. Super easy to make and super fun to serve, this will the hit of the party. You could also try this with other favorite sodas.
Source: The Frugal Gals
Keep your drink game strong with these cocktails and mocktails to liven up any event. Your friends will always ask you to play bartender.