Air fryers have swept the nation. People are enjoying the ability to create their favorite dishes in a more healthy way. You can still get a delicious crispiness to your meals without all the hassle of submerging and cooking it in oil. Check out these mouth- watering air fryer recipes you need to try.
Chicken Parm
Chicken Parmesan has never been easier to make. With just 8 ingredients, you're ready to get started. Grab breadcrumbs, parmesan cheese, eggs and pepper to season the chicken. Cook it for 10-12 minutes, flipping it halfway through for an even browning. Top with sauce and more cheese and pop it back in your air fryer to make sure the cheese is melted to perfection. Place the chicken on top of some noodles with a bit of extra sauce and you've successfully prepared a delicious meal in roughly 20 minutes. If you're interested in making this, you can find the recipe here.
Nutella Donut Holes
Your eyes did not deceive you. Nutella and donut was, in fact, just used in the title of this recipe. Name a more perfect duo. You can't, can you? If you're wanting to make these, all you need is 5 ingredients. Premade biscuit dough, an egg, water, and Nutella make up these delicious morsels. Sprinkle some powdered sugar on top to take it up a notch! Check out the recipe in its entirety here.
Meatballs
Who doesn't love a quick and easy meatball recipe? If you have ground beef, cheese, garlic, an egg and whipping cream, you have everything you need to create these delicious (keto friendly) meatballs. Simply combine all the ingredients except for the beef. Once that's done, add in the meat and begin shaping 1.5 in balls out of the mixture. It's really that easy! There is a recipe for a sauce to go with these and instruction on how to freeze them as well. You can find that information here.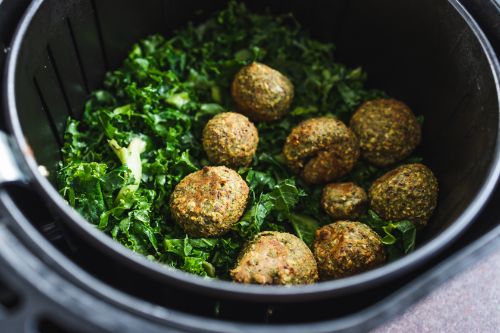 Breakfast Egg Rolls
Who said the air fryer was just for lunch and dinner? Level up your skills by trying this delicious breakfast recipe. The ingredients are simple and you probably already have them on hand. Eggs, sausage, green onion, cheese, milk, butter and egg roll wrappers are the only things you need! The instructions will tell you the order in which to cook each item and it also gives detailed instructions on how to roll your egg/sausage mixture into the egg roll wrappers. So don't worry if you've never worked with them before. You can find the recipe here.
There are so many amazing recipes you can make with your air fryer. This genius creation makes it possible to enjoy all the 'fried' foods you love without the greasy oil aspect. The best part? You don't have to sacrifice flavor or that delicious crunchy texture. If you don't currently have an air fryer, run to your nearest store to pick one up!