We all know being a busy mom is hard during the summer. The kids are out of school and you don't want them to fry their brains with their phones. But what is there to do to keep them entertained while not driving you crazy. Here are a few ideas…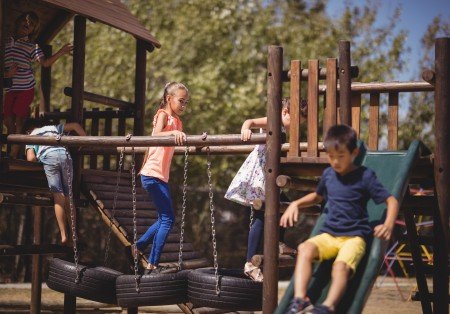 Parks
Parks are a great way to keep your kids going during the summer. When the weather gets warm, water parks are the place to be. You can hit the splash pad at your local park or one of the big water parks in your area to beat the heat. Splash pads are generally good for smaller children who may not be able to swim quite yet, or if you have a lot of kiddos that you need to keep your eye on. There is no open water so you get to relax a little while your kids wear themselves out for nap time. Water parks are great if you have kids a little older and you trust their swimming abilities a little more. Most water parks have a lazy river, wave pool, and plenty of slides to go around. You can assure your kiddos have eyes on them at all times too with all the lifeguards and fellow park goers. Your normal city parks are great too with lots of shady trees and grass to chill in. You can even bring lunch and have a picnic. Your kids will have a blast running, climbing, and sliding their hearts out.
Treats
There are tons of treats you can make to sweeten up your kids on a warm, sunny day. Don't make it too complex. Try simple things that won't break the bank like frozen bananas. You dip them in chocolate, throw them in the freezer for a couple hours and done! Snow cones and slushies are a must and it gives you an excuse to throw the kids outside for a while so they don't get your house sticky from the syrup. Diy popsicles are nice and easy too. Just pour their favorite juice or drink into an ice tray with a toothpick, toss them in the freezer and you have mini popsicles. When it cools down at night, nothing beats gathering around the fire pit and roasting marshmallows to make the perfect s'more.
Games and activities
With electronics taking over today's world, it's hard to keep your kids off the electronics. Send them outside for some "old fashioned" fun. Turn on the sprinklers for a bit and let them cool off. Or maybe set up the slip and slide that's been in the garage for ages. There's fun cheap toys like hula hoops or nerf guns that will keep them entertained for hours on end. When they get bored from their toys at home, take them to the rec center and sign them up for a class or sport. They have everything from cooking and art classes to gymnastics and baseball. If your child isn't the sporty type, hit the library. They not only have an endless supply of books but they also have people come in to read to the kids while dressed up like the characters on occasion.
Now when your kids say the dreaded words, "I'm bored" you have a ton of different ideas to keep them going. Have them try new things and get out of their comfort zone. But most important, have fun!